We have a strong track record of working with many universities.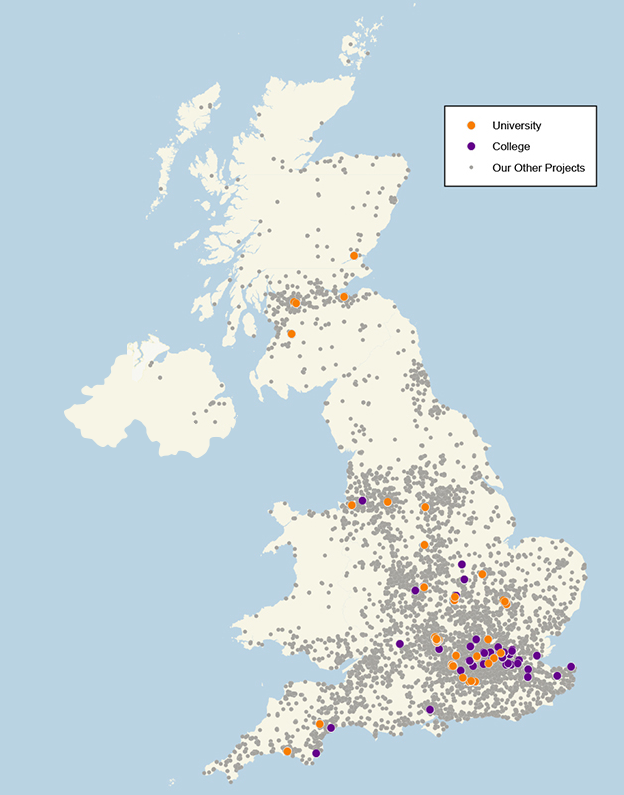 Contains Ordnance Survey data © Crown copyright and database right [2019]
Our clients
In the last ten years alone, we have worked on over 50 projects for university clients across the UK. We have worked in collaboration with estate architects, land owners, local authorities, project managers and contractors to realise their vision.
Our ongoing relationships and multidisciplinary capability means we have worked across the full scope of estates development and all RIBA stages from feasibility, through planning to environmental assessment, detailed engineering and transport design and the construction of buildings and infrastructure.
Not only do we work for universities, we also work with universities. For many years our staff have partnered with universities engaging in curriculum development, guest lecturing and providing opportunities for undergraduate and postgraduate support. This has been in addition to working with them on innovative research studies for our clients.
At Southampton, Oxford Brookes, Reading and Portsmouth universities we have been supporting degree and masters lectures on topics such as Transport Planning, GIS, Infrastructure Planning and Sustainable Built Environment. Most recently, in partnership with Newcastle University, we were instructed by the Royal Town Planning Institute to produce the high-profile 'People and Place Spatial Framework'. The Framework will form part of the 'Great North Plan' which seeks to advance the 'Northern Powerhouse' vision.
A selection of our university clients